What really happens to your muscles during a car accident and why is massage for Whiplash so beneficial?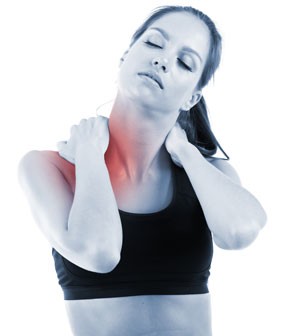 Whiplash is an injury to the spine and surrounding muscles caused by the abrupt jerking motion – backward, forward, or sideways – that happens as a result of the sudden impact experienced during a car accident. The muscles and spine are 'caught off guard' and thus unprepared for the sudden involuntary acceleration and this results in partial tearing of the the muscle tissue.
Tenderness or pain in the neck, head and upper back areas almost always follow. Lower back pain can also accompany whiplash. You may feel only slight immediate pain or discomfort following your accident, but it is common for serious tension and stiffness to set in up to two weeks later.
Whiplash causes micro-tearing of muscle and other supportive tissues requiring repair and protection by scar tissue. You may only start to experience pain once the muscle has begun to heal and scar tissue starts to form. Scar tissue lays down in haphazard formations similar to fiberglass and may cause the underlying bone, tissue and muscle fibers to get "stuck" together. You experience this as a pulling or tightness that results in a loss of flexibility or range of motion.
Massage is the most effective treatment for breaking up and realigning scar tissue and increasing mobility associated with Whiplash. The massage therapist uses a method called cross-fiber friction that works counter to the direction of the muscle to loosen adhesions and decrease scar tissue buildup. In addition, the therapist may use other strokes and stretches in areas adjoining the primary area of injury to reduce muscle tension and restore full range of motion.
A typical treatment is once a week for 8-12 sessions and should provide near 100% recovery. While physical therapy and yoga are other alternatives, these are usually not as directly effective at massage which works directly on adhesions.
What is most important to realize is that without any treatment, the muscle aches and knots experienced after an accident will go on for years. You may never be quite pain-free, and these knots and kinks set in and become part of your lifestyle. The good news, however, for those who have had accidents years ago and never got treatment is that cross-fiber friction massage is very effective even after many years.
So, in a nutshell, if you have been in an accident and now experience muscle tension or pain in your in neck, shoulders or lower back, you are likely experiencing the effects of whiplash. You do not have to feel this way forever! Massage for Whiplash is the best way to restore your muscles to full function and health.