Dreamclinic Special Offers
New Clients – Enjoy $20 Off Your 1st Visit
New clients can experience our award-winning massage therapy and/or acupuncture and enjoy a $20 discount off of your first 60 or 90 minute session.  Pass the word along to those in your circle who have not tried out Dreamclinic yet. Please use promo code: DCWEB20 when scheduling your appointment.
First visit – 60 minute session          $88
First visit – 90 minute session         $133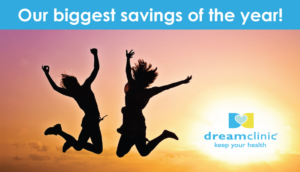 Celebration of Health
We love the fact that many of our clients receive massage on a regular basis for their well-being. Getting great value while taking care of your health makes life even sweeter.
This is the reason why, for nearly a decade, we have offered the Celebration of Health annual summer promotion which offers our best savings of the year – receive 6 hours of free massage when you purchase 24 hours of massage. Hours never expire and are fully transferable to friends and family. If you know you get a massage on a regular basis or you like to share with friends or family then don't miss out on these outstanding savings.
This year's Celebration of Health offer is available starting July 1, 2019 through July 31st. Save 20% with the Celebration of Health Package here.
Celebration of Health Package (30 massage hours) – $2592
$86.40 per one hour of massage
Savings of over $648
Our guarantee: Your hours never expire. This is our best discount available.
Stop in at one of our 4 locations or call 206-267-0863 to purchase a Celebration of Health
Share Your Amazing Dreamclinic Experience
Refer a new client to Dreamclinic and receive a complimentary 30 minute massage upgrade on your next one-hour massage or acupuncture session – a thank you gift for your referrals!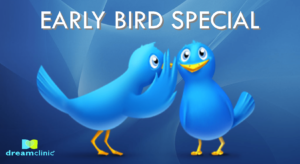 Members Earn Double Points for Weekday Morning Appointments
To take advantage of Dreamclinic's Early Bird Special, come in any time by noon on weekdays (including appointments starting at noon) and receive double member points on any 60 minute or 90 minute massage. Just mention promo code EarlyBird at your check-in!
Reward Your Healthy Lifestyle with a Dreamclinic Membership
Purchase a Dreamclinic annual membership to enjoy 13% savings all year-long. Memberships cost just $40 and earn you an instant 8% discount on all our therapeutic services plus 5% back in rewards points. You also get access to member exclusive offers and promotions.
There are no contracts, hidden fees or penalties associated with the Dreamclinic membership program. Expect your membership to pay for itself after approximately three visits. Become a member and save!
Link: https://dreamclinic.com/our-services/membership
Special offers cannot be combined with any other discounts or offers and cannot be used with insurance or pre-paid services. 
---
From Our Wellness Partners
Discount for Dreamclinic clients at LifeFloat
Dreamclinic clients pay only $25 for their first Float Session, normally a $90 session! Use the promocode "dream25" when booking at lifefloat.com
Running Evolution Discount
Dreamclinic clients get 10% off classed and events. Running Evolution specializes in coaching non-runners, reluctant runners, and rusty runners in a non-competitive forum.