by Wayne T, LMP
Practice this self-help technique regularly to reduce or eliminate neck pain and tension. For this simple at-home trick, all you need is a towel and a hair-tie or rubber band.
1. Just before bed, take a regular length bath towel (or beach towel) and lay it out flat on the floor or bed.
2. Roll the towel lengthwise, so it is long and skinny.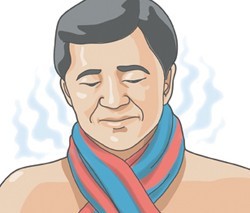 Once it is rolled up, hang the towel around your neck ...
Continue Reading →
Share