The holiday season is here and with it comes the whirlwind of parties, shopping, and gatherings with family and friends. There is much planning to do on top of managing existing schedules. Abundant opportunities to eat, drink and be merry present themselves. Stress abounds, whether we welcome the season or can't wait until it's over.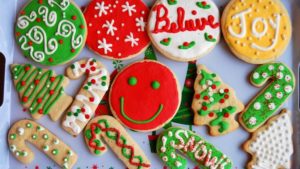 Numerous parties and holiday events make it easy to over- indulge in sugar, alcohol, and foods you may not ordinarily eat. When you repeatedly partake, toxins build up in the body and can upset your internal balance. The resulting effects may include poor digestion and headaches and fatigue. Added to these challenges is the emotional stress of juggling multiple social engagements or dealing with difficult family members while attempting to maintain your own sanity. Emotional stress can cause you to eat and drink more to cope with anxious feelings, thus increasing the toxic load on the body.
Here are 5 holiday detox strategies you can do to eliminate toxins this holiday season:
Exercise. Exercising regularly increases circulation and oxygenation, and eliminates waste products from the body.1 Daily movement also reduces stress and improves cognitive function.
Eat cleansing foods. The liver is the body's primary detoxification organ. Foods that help cleanse the liver include garlic, onions, and cruciferous vegetables such as broccoli, cauliflower and Brussels sprouts.2
Drink water. Water helps flush out toxins, so drinking an extra glass or two of filtered water each day can make a big difference. Add a squeeze of lemon to ease gas and bloating.
Try Acupuncture. When toxins build up in the body, the flow of life force energy, or qi, becomes inhibited. This imbalance can show itself as food and sugar cravings. Acupuncture balances the body's qi, restoring a normal appetite and reducing cravings for toxin-loaded foods.3
Schedule a Massage. The pressure and rhythmic strokes used in massage improve the body's circulation and lymph flow, facilitating toxin removal.4Massage also helps to reduce stress levels and boost the immune system.
As the holiday season proceeds, follow these holiday detox measures to keep yourself healthy and manage your stress with ease. Taking the time to take care of yourself will give you the energy to tackle all of your holiday commitments with cheer.