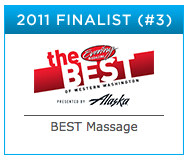 We are thrilled to announce being voted a Finalist for Seattle's Best Massage as part of Evening Magazine's Best of Western Washington Contest!
We have previously been nominated for The Best of Western Washington in 2008, 2009 and 2010 polls. In 2010, Dreamclinic was voted as part of the top 10 Massage Clinics in Seattle.
We would like to thank all friends, family, ...
Continue Reading →
Share