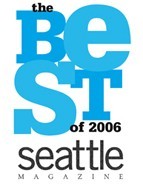 This November Seattle Magazine named Dreamclinic Best Sports Massage in Seattle for 2006.
Seattle Magazine bestowed this honor on Dreamclinic at the annual "Party of the Year" charity event, held November 16, 2006, and featured the clinic in their December 2006 issue.
"We are pleased with this recognition, especially in light of the fact that Dreamclinic did not seek out the award, nor did the clinic conduct a campaign to be nominated," stated Larisa Goldin, Dreamclinic Founder and President.
"We owe this recognition entirely to our clients, who, through excellent word of mouth, led the magazine's editorial staff to Dreamclinic."
In case you missed the issue (it was quite popular around the city), we've reprinted a portion of the article that highlights Dreamclinic:
"Whether treating professional athletes, Seattle's legions of serious cyclists or its Green Lake-walking warriors, this Ravenna massage therapy center doesn't mess around when it comes to the business of knot kneading. No froufrou frills or wimpy spa pressure here: the pleasant, no-nonsense spot's 15 practitioners are rigorously trained to offer highly personalized, medically informed deep tissue massages — making clients feel as relaxed after events such as the Hood to Coast race as they would after a 'Road Rules' marathon."