Pricing for One-Time Events
Chair Massage – $105 per hour per therapist
Table Massage – $123 per hour per therapist
*Therapist break time not included, you are only billed for actual massage time.
*An event coordination fee applies for one-time events.
Recurring Massage Service Pricing
Employee-Paid Model
Payment is collected from employees at the time of service. We accept all forms of debit and credit cards. Cash or checks are not accepted. Nominal set-up fee.
10 Minute Massage – $18.00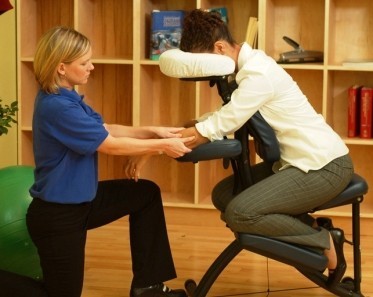 15 Minute Massage – $27.00
20 Minute Massage – $36.00
30 Minute Massage – $48.00
45 Minute Massage – $72.00
60 Minute Massage – $96.00
2 Hour Package – $168
Company-Paid Model
Employer-paid engagements are charged to the credit card on file after services are performed.
Chair Massage – $95 per hour per therapist
Table Massage – $105 per hour per therapist
Massage Duration
One therapist can provide one of the following options per hour:
Six 10 minute sessions
Four 15 minute sessions
Three 20 minute sessions
Two 30 minute sessions
Forms of payment accepted

We accept MasterCard, Visa, American Express, Discover and HSA/FSA.
Cash and checks ARE NOT accepted for Dreamclinic Workplace Massage services.