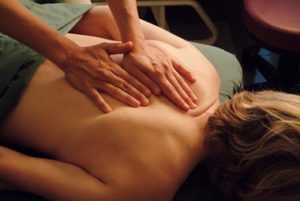 What Type of Massage is Right For You?
Sarah wanted to treat herself after a couple of long, hard weeks at work. She booked a massage at a spa and enjoyed everything from cucumber slices to incense to fluffy, warm towels. It was the ultimate afternoon of relaxation.
Her friend, Rebecca, had also been working hard and wanted to reward herself. She had been experiencing tight neck and shoulder muscles from working too long on the computer, so she booked a massage at a massage clinic. She enjoyed a customized massage from a highly skilled therapist. It was the ultimate afternoon of relief.
Sarah and Rebecca both had massages, but their experiences were very different. Sarah had a spa massage and Rebecca chose clinical massage therapy. These two forms of massage get thrown around a lot and can cause confusion. While they are often used interchangeably, you can see that they are very different.
To help you choose the right kind of massage, we're exploring the differences between clinical massage and spa therapy. The biggest differentiators fall into three buckets – focus, techniques, and training and credentials:
Focus
A spa practitioner's focus during a massage revolves around relaxation and self-pampering. Techniques can include Swedish massage, aromatherapy, and hot stone. In spa massage, the environment is private with special emphasis on décor, lighting and music to set you at ease in addition to standard amenities like music and table warmers.
Clinical massage therapy may offer music and table warmers as well but does not focus solely on relaxation; rather its main focus is treating conditions and providing real health benefits. Clients visit massage therapists to alleviate chronic pain, headaches, or inflammation (or, like Rebecca, to alleviate tight muscles).
Techniques
Both spa therapists and clinical therapists can practice different types of massage, like Swedish, hot stone massage, or deep tissue massage. The biggest difference is why the therapists choose a technique.
In spa massage, the therapist is focused on ambiance and client relaxation. It's about you feeling pampered and relaxed and leaving all your troubles behind for an hour or two.
On the other hand, clinical massage therapists have a great understanding of connective tissue and muscles, so they can provide specialized, treatment-oriented services. You explain a health concerns, like chronic pain or migraines, and the massage therapist will choose a technique that can best solve the issue. Client satisfaction is often assessed after multiple visits, to evaluate whether the health concern has been solved or has improved.
Training and Credentials
Basic massage education usually requires between 500 to 750 hours of learning and hands-on experience, and allows new therapists to get a spa massage job to gain necessary experience and improve their skills.
A typical massage graduate requires a period of professional practice and experience in the community to become fully versed to practice in a clinical setting. They also need to have an advanced understanding of pathology and kinesiology. In many clinical massage settings, therapists are expected to have completed additional professional certification or training in continuing education hours.
The bottom line: spa massage is about relaxation and pampering, while clinical massage improves quality of life by lowering treating muscle aches, and restoring flexibility.  Both types effectively treat stress.
So, did Sarah make a huge mistake by going to a spa massage? Not necessarily. You have to decide what you want from a massage. If you like the fluffy towels and cucumber slices, then a spa massage is probably right for you. But, if you want to see long-term health benefits and feel better physically, then a clinical massage is the perfect addition to your healthy lifestyle.
See what we're talking about for yourself! Book a massage at Dreamclinic today.
Picture: http://www.swedish.org/getmedia/edfaa9f4-7d41-4512-a378-f086fe54ebc8/integ_massage_380.aspx
Share