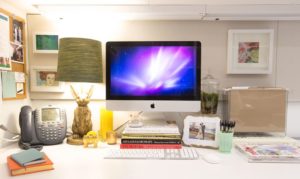 "Stress-free" is usually not the first thing that pops into our mind when we think about our workplace. Long meetings, hard deadlines, and dozens of distractions make work feel like, well, work.
As a result, we become more stressed. And as our stress levels increase, our productivity falls lower and lower, which only stresses us out even more! This vicious cycle can seem unavoidable, but in actuality, a few small changes to your workplace can make a profound difference on your attitude and stress levels while in the office.
Here are some 5 easy, DIY tips to create a stress-free workspace:
Personalize your space. Decorate your desk, with favorite pictures or mementos. This way, you'll feel less like you're at the office and more like you're at home (or at least, in a space that feels like yours).
Organize. A messy desk is the number one cause of workplace stress. Start by keeping small garbage and recycling cans underneath your desk, so that it's easy to get rid of trash and unwanted papers on a regular basis. Figure out which items you use most often, and sort them so that they are easily accessible. Make sure that you minimize the amount of papers out on your desk, because visual clutter can cause clutter in your brain, making it harder to focus.
Take five. It's important to give your brain mental breaks, especially when working on something stressful and complicated. Short breaks between 1-5 minutes are incredibly helpful for reducing stress, and the aches and pains you may feel from long hours at a desk. Studies have shown that taking just one break, for less than five minutes, improves mental sharpness by an average of 13%, and that regular breaks of two minutes increase productivity by 11.15%.
Become one with nature. Add some plants to your office space, like a succulent or a houseplant. Even if you don't have a green thumb, working in an environment with plants has been proven to lower stress, and decrease noise, room temperature, and humidity, ultimately creating a calming and cool space.
Make sure to stretch. It's important to get regular exercise outside of work, but during the workday, you should also do small exercises to reduce your fatigue and stiffness. Oftentimes, we subconsciously tense our bodies when we're stressed, so working out our knots is an important part of staying healthy. Try standing and stretching your arms over your head, resting your eyes on something calming, stretching your fingers, and slowly rotating or massaging your temples, neck, and forearms.
It's no surprise that most people think of the workplace as a stressful environment. Our bodies are not made to be stationary for long periods of time, and stacks of clutter only add to our stress levels. In order to keep a positive mindset, it is incredibly important to listen to your body. Make your office space clean and let it reflect your personality, and you'll be on track to a healthy and stress-free workday.
Photo credit: redbookmag.com