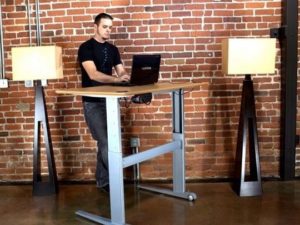 Employees who de-stress together, work better together.
We know this for a fact — the combined symptoms of stress cost business $200 billion a year due to decreased productivity and increased health and medical expenses. On the other hand, when employees are healthy and stress-free, they're more productive, feel happier, and have more energy.
So, how do you decrease workplace stress? It can be as easy as a 15-minute massage.
At Dreamclinic, we understand the importance of a healthy team in any organization, from a small, local business to a Fortune 500. That's why we offer a range of Dreamlinic Workplace Massage services to enhance company wellness, including onsite chair massage or clothed table massage, on a recurring basis or for one-time events.
And now, we're offering one more easy way to stay healthy at work, thanks to a new partnership with ErgoFit.
ErgoFit provides expert ergonomic consultations and assessments in offices, laboratories, and industrial workplaces. Services range from workstation evaluations to providing employee education about office well-being to design consultations during construction projects. ErgoFit has worked with companies like Facebook, Safeway, Woodland Park Zoo, and other clients around the world.
This new partnership is an added benefit of our workplace massage services and gives our customers yet another way to de-stress at work. Just like massage, the correct ergonomic setup at the workplace can increase productivity, help employees feel better, and save companies money.
The ErgoFit team is committed to advancing workplace productivity so clients can have healthy and vibrant businesses. Founded by Deborah Read, an occupational therapist with over 25 years of fitness training experience, ErgoFit's services provide immediate relief and help prevent long-term injuries.
"A true professional, Deborah is passionate about safety in the workplace. Her assessment and product recommendations were timely and cost-effective, her manner upbeat and positive. Deborah's occupational therapy perspective ensures business owners focus on the proactive goal of injury prevention, " said ErgoFit client, Kathryn Barrett, president at Aging Matters LLC.
We're very excited about this new partnership — our workplace massage services combined with the expertise of ergonomic consultants at ErgoFit makes Dreamclinic the go-to place for total wellness. Massage is already a great way to reduce stress and anxiety in the workplace, while also treating aches and pains that are associated with repetitive work. And now, being able to refer clients to an ergonomics consultant offers even more solutions to alleviate common workplace injuries.
To learn more about what Dreamclinic Workplace Massage and ErgoFit have to offer, contact us.