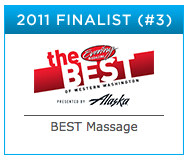 We are thrilled to announce being voted a Finalist for Seattle's Best Massage as part of Evening Magazine's Best of Western Washington Contest!
We have previously been nominated for The Best of Western Washington in 2008, 2009 and 2010 polls. In 2010, Dreamclinic was voted as part of the top 10 Massage Clinics in Seattle.
We would like to thank all friends, family, employees and clients of Dreamclinic who voted for us in this local contest. Your votes made all the difference, we are grateful for your ongoing support and love.
Thank you for choosing us as your partner in health. We wish you great peace, abundance and vitality. To your health!
Click here to view the complete list of winners
Share