FOR IMMEDIATE RELEASE
Dreamclinic Recognized as one of Washington's Largest Women-Owned Businesses by Puget Sound Business Journal
From humble beginnings to making Washington's Largest Women-Owned List 
Seattle, WA, July 6, 2018. This spring (April 2018) Dreamclinic was recognized in the Puget Sound Business Journal (PSBJ) as one of Washington's Largest Women-Owned Companies. Ranked by 2017 revenue in Washington State, the 50 women-owned companies on The List collectively reported revenue of $3.75 billion in 2017.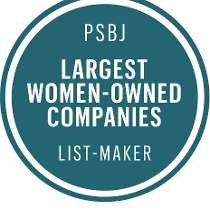 This award is an honor in general for any woman business owner, and especially so for Goldin, given Dreamclinic's humble beginnings and challenges faced along the way.
When Larisa Goldin was just starting Dreamclinic, many doubted her idea. One venture capitalist she met at UW Business School plainly told her "we don't think massage is a scalable business. Massage places are like laundromats, there is a different one on every corner." But Goldin, the Founder and CEO of Dreamclinic, Inc. would not be dissuaded from her vision of a trusted Wellness business, centered around massage therapy, that one day would serve a large portion of the population, thus creating a healthier planet.
Without access to funding and unable to get bank loans, Goldin had to be creative in birthing her concept.   During Dreamclinic's first year, she used credit cards to fund equipment and supplies and ran the business out of a single room in a shared space, where she bartered massage for rent. Today, her vision is coming to pass with Dreamclinic performing close to 70,000 appointments a year between four Seattle area clinics and at corporate client sites across six states, including several Fortune 100 companies.
If you are a woman business owner, you are probably well aware that it can be harder to get access to capital and Goldin certainly could not get an audience with any VCs. So she devised a growth strategy around this challenge, becoming super focused on the client experience, making sure clients became evangelists and fueled the business' growth. The growth is not over as Dreamclinic continues to open more clinics and expands its onsite Workplace Wellness service to more office locations. Goldin is also now focusing on helping other women business founders who are earlier in their journey.
If you have stress, muscle aches, chronic pain or muscle injuries, consider booking an appointment at one of the Dreamclinic locations to get relief and experience the Dreamclinic quality difference.
* * * * * * * * * * * *
About Dreamclinic
Dreamclinic is a Seattle-based Wellness business, recognized for its Award-winning Massage Therapy and Acupuncture services. Built on the belief that all people deserve to have health and well-being, the Dreamclinic brand stands for trusted business practices and the highest quality in therapeutic bodywork. All therapists are results-oriented, highly skilled and tailor their approach to the specific needs of each individual. Dreamclinic features multiple Puget-Sound clinic locations with a convenient seven-days-a-week schedule and an online booking capability. Dreamclinic also offers Workplace Wellness programs, where therapists perform clothed massage or acupuncture at your office, either for one-time events or on a regular basis. Workplace service is currently available in WA, OR, CA, UT, AL, OK.
Dreamclnic is a recipient of multiple industry awards and has been included on the Inc. 5000 list of fastest-growing private companies in the United States.   For questions about our services please visit our website at www.dreamclinic.com, contact 206-267-0863 or email [email protected]
Media Contact:
Steven Baldwin
206-267-0863
[email protected]