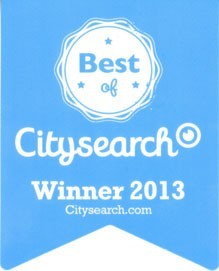 Dreamclinic wins top prize "Seattle's Best Massage" in The Best of Citysearch 2013!
Dreamclinic has been voted "Seattle's Best Massage" by voters s on Citysearch.com in their annual poll.
This year's selection marks an impressive consecutive string of victories as Dreamclinic was previously voted Seattle's Best Massage on Citysearch in 2007, 2008, 2009, 2010, and 2011. The poll was not held in 2012.
We are thankful to all of our clients, staff, and friends of Dreamclinic who showed us such great support by taking the time to visit the Citysearch website and cast their vote.The Dreamclinic community came out in droves and we won!
Doing massage therapy in a truly caring way is what Dreamclinic is all about. Kudos to our staff and our clients for taking massage therapy to the next level!