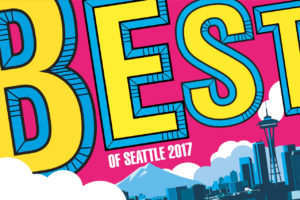 Seattle Weekly magazine announced last week that Dreamclinic Massage is its pick Best of Seattle 2017 poll for the massage category.  Dreamclinic won this recognition over all other massage businesses based on voting by Seattle Weekly's large reader base.
"We didn't learn about the contest and the voting until the voting was pretty much over," says Larisa Goldin, Dreamclinic Founder & CEO, "and we are honored and humbled."  The Best of Seattle Award from Seattle Weekly adds to the many other awards Dreamclinic has claimed over the years – from Allure Magazine, Seattle Magazine, Seattle Metropolitan, King5, Citysearch and others.
What is behind all the success is Dreamclinic's unique way of interacting with clients.  When you go to some other spots from massage, it's as if you have a dollar bill tattooed on your forehead.  When you come to Dreamclinic for massage or acupuncture, rather, we look at you as a new friend, someone we want to help over the long-term to live with greater health and vitality.  So we don't push or use gimmicks to earn repeat business, we just focus on the best bodywork you can find anywhere in the country.  The true passion for bodywork and appreciation for clients, of our entire team, is what clients notice when dealing with Dreamclinic.  And they recognize at a deep level that there is something different about Dreamclinic, that our healing intention is genuine.
The work we do at Dreamclinic and helping thousands of Seattle folks each month is in itself deeply rewarding.  The awards, like the Seattle Weekly's Best of Seattle for 2017.. well they are icing on the cake!
Share