Athletes of many stripes are turning to acupuncture for an effective method of injury treatment and prevention. Professional football players from the ranks of the New York Jets, Minnesota Vikings, San Diego Chargers and more have embraced acupuncture to manage pain, speed injury recovery, and achieve peak physical performance in their sport. A review of research studies on the use of acupuncture in sports confirms its efficacy at increasing muscle strength and power in athletes.1
Sports acupuncture is used for injury treatment, prevention and (in combination with Chinese herbs) to improve athletic performance.2 Acupuncture taps into the body's natural ability to heal itself. It can work in conjunction with Western medical treatment, and in cases where rest is prescribed for an injury, acupuncture reduces pain and accelerates the healing process without side effects.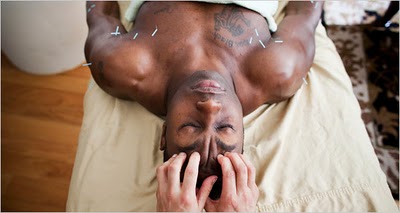 New York Jets fullback Tony Richardson receives acupuncture regularly between practices and before games.
Matt Callison, a licensed acupuncturist and instructor at Pacific College of Oriental Medicine in San Diego, has been using sports acupuncture to treat athletes for 11 years and counting. Callison says, "traditional Chinese medicine [including acupuncture, herbs and exercises] has been an extremely helpful and growing trend in athletics for quite a while. Steve Young and Jerry Rice [of the San Francisco 49ers] have been treated with sports acupuncture, and Canadian speed skater Kevin Overland received sports acupuncture to help him earn a bronze medal in the 1998 Olympics."3
Baltimore Ravens safety Will Demps credits acupuncture with boosting his performance on the field. "In my extensive off-season workouts, I have noticed a difference in my balance and agility since receiving [acupuncture] treatments…I feel my muscles have been 'turned on' and are firing on all cylinders."3
In Major League Baseball, the Seattle Mariners were the first team  to utilize acupuncture, primarily due to the influence of Japanese players such as Ichiro Suzuki and Kazuhiro Sasaki. Players opt for acupuncture to help their muscles rebound more quickly after intense training, or to support rehabilitation and speed recovery from injuries.4
Proprioception, the body's sense of where it is in space, is a process of the muscles communicating with the nervous system. Injury interferes with the body's proprioceptive signals and creates imbalance. Acupuncture serves to relieve stress on the musculoskeletal system5 and "is one of the quickest ways to restore muscle balance," says Callison. "When acupuncture is used at specific sites, the muscle spindles are reset, and then that balance is reawakened."
The practice of acupuncture views pain as an imbalance or interruption of one's qi (life force energy). The insertion of acupuncture needles triggers the release of pain- and inflammation-fighting chemicals in the body, and restores the cyclical flow of qi, allowing the body to function at more optimal levels. A qualified acupuncturist will first conduct a thorough intake and evaluation of symptoms, then create a targeted course of treatment for maximum results.
This is an original article from Dreamclinic, Inc. Dreamclinic is a Health and Wellness company committed to sharing information about commonly experienced health conditions and how they may be impacted through the use of bodywork and other natural approaches. Dreamclinic offers massage, acupuncture, and Reiki sessions at its Greenlake and Queen Anne clinics, as well as onsite massage at workplaces around Puget Sound. Contact us to learn more about how Dreamclinic can help you, your family or your workplace experience greater health.
References:
1. http://www.ncbi.nlm.nih.gov/pubmed/20386479
2. https://www.acufinder.com/Acupuncture+Information/Detail/Acupuncture+for+Sports+Performance+Enhancement
3. https://www.pacificcollege.edu/acupuncture-massage-news/articles/593-.html
4. http://www.bastyr.edu/news/general-news-home-page/2013/05/acupuncture-students-intern-mariners-spring-training
5. http://www.sciencedirect.com/science/book/9781437709278
Other resources:
1. http://www.reporterherald.com/ci_23252454/burning-run-bolder-boulder
2. http://www.bastyr.edu/news/general-news-home-page/2012/12/students-offer-sports-medicine-seattle-marathon
Image: http://www.nytimes.com/2010/11/30/sports/football/30acupuncture.html?_r=0